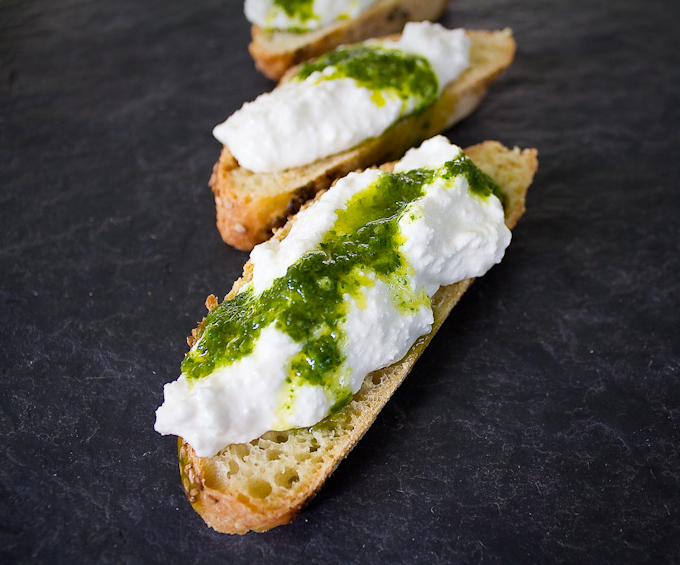 A beautiful blend of rich cream flavor with savory seasoning. Lovely for a platter or as a gourmet finger food. To make them extra indulgent you could consider using double cream. We prefer them lighter, however, so this recipe is for the more refreshing version. Traditionally you should be using french baguettes but to be completely fair the type of bread does not make a huge amount of difference, the shape and texture of a long crusty loaf is what we need for this particular style of serving.
The ingredients should make up a serving for 6 – 10 people;
6 cups of whole milk
4 tablespoons lemon juice, also you will need  the zest of 1 of the lemons
1 teaspoon kosher salt
Extra-virgin olive oil, for serving, this can be mild olive oil for a less strong taste
1 baguette, toasted and sliced into the desired thickness
Method:
To begin, lay a doubled up cheesecloth over a colander. You will need this later to drain the cheese curds in.
Pour the whole milk into a large pot and into a medium heat. While it is heating stir in the lemon juice and salt. Using a thermometer, you will need to gauge when the milk hits 175 degree F. This should be when the milk reaches the point of starting to bubble and release steam, also curds will begin to form.
While the curds appear do not stir too much. As this can make the Ricotta too stiff in the end. Then take it off the heat and let it sit for 5 to 10 minutes, don't stir it while it's cooling. The cream should be thickened and at a nice smooth consistency when cooled down,
Carefully remove the curds from the pot to the Coldender you setup earlier. Using the cheesecloth to release the liquid as needed, tie up the curds using some rope and let it drain for several minutes. Remove the curds from the cheesecloth and place in a bowl or on a plate.
This should be served warm, so place on the toast, sprinkle some lemon zest and add a drizzle of the olive oil. It is possible to refrigerate the leftover ricotta in a sealed container for up to 5 days. But would strongly recommend never reheating it. Once it has been cooled down, it should be eaten cold. Throw on some pesto or oregano for a more Mediterranean tasting horderve.