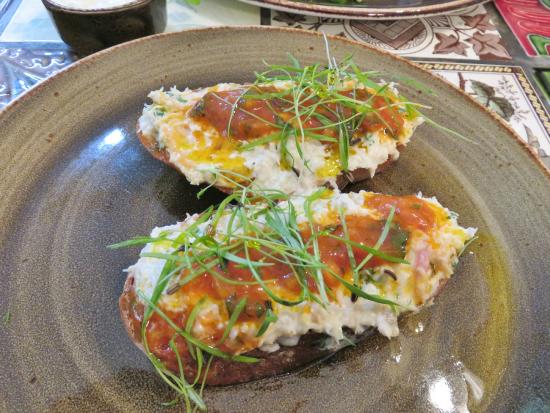 These spicy crab squares are great for entertaining guests when you're short on prep time. The tasty squares will wow your guests thanks to the sumptuous crab and fresh lemony taste.
Ingredients:
Four slices of brioche loaf
100g (3½oz) white crab meat
A few drops of Tabasco
Love recipes? Here are some others you might like!
Spiced Blinis with Smoked Salmon
Fun Casino Themed Recipes

Finely grated zest of ½ – 1 lemon
150g (5oz) low-fat cream cheese
1 tbsp freshly chopped chives
Method:
Before you begin, preheat the oven to 200°c (180° in fan assisted ovens), gas mark 6. Cut four slices of the brioche loaf and divide each of these into six pieces. For smaller loaves, you are looking for 24 bite-sized pieces.
Arrange the brioche on a baking sheet and toast in the oven until crisp and golden brown (12-15 minutes). Allow to cool.
Meanwhile, mix 100g (3½ oz) of white crab meat in a medium bowl. Add the Tabasco, the lemon zest (to taste), and 150g (5oz) of low-fat cream cheese, along with 1tbsp of freshly chopped chives. Check the seasoning and adjust to taste.
Serve the cooled brioche pieces with the crab mixture and sprinkle with extra chives to serve.
Makes 24.
Calories per serving is a tiny 41, making this an ideal appetiser for those looking to keep trim. Just don't be tempted to keep these scrummy squares all to yourself!
Other stats:
Protein: 2g
Total Fat: 2g
Sugars: 1g
Total carbs: 4g
Fibre: 3g
Top tip: Plan ahead!
The bread squares and the crab mixture can be made in advance. Simply bake the bread squares up to two days in advance and store the bread squares in an airtight container at room temperature. The crab mixture can be prepared a day earlier and chilled in the refrigerator. Assemble the canapes half an hour ahead and concentrate on getting your main started for a fuss-free dinner party.