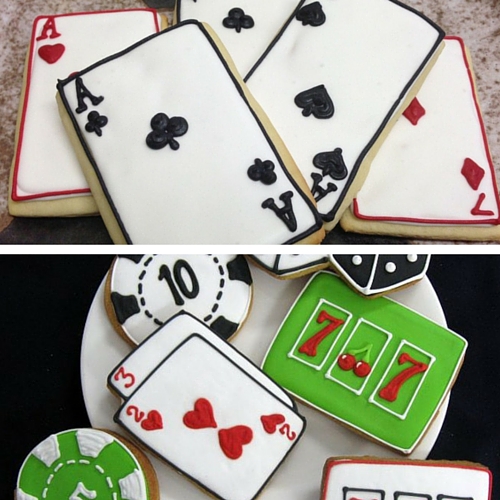 Everyone loves a good biscuit, so why not whip up these creative playing card biscuits for a casino themed party? Easy to make, easy to enjoy…give them a whirl!
Ingredients:
– 110g of caster sugar
– 225g of butter
– 275g of plain flour
– 75g of chocolate chips (optional and down to personal preference)
– White glace icing
– Red and black icing pens
Tools:
– Rectangle cookie cutters
– Mixing bowl
– Wooden spoon
– Sieve
Method:
Prior to making the cookies, you will need to preheat the oven to Gas mark 3/170C.
Mix the butter and the sugar in a mixing bowl thoroughly until they create a nice, creamy paste. Then, using the sieve you need to sift the flour gradually into the bowl, continuously stirring to mix it into the paste until it becomes a dough.
Following this, use the rectangular shaped cookie cutter to mould the dough into playing card shapes. Use some excess butter to grease up a baking tray, pop the cookie's on and place in the oven for 15 minutes until they are golden in colour and firm to touch. Leave them to cool for a further 15 minutes and then you can begin to decorate.
Decorating:
Whilst the cookies are cooling, mix up some glace icing. You should make enough to coat the tops of all of the cookies and the consistency should not be too runny. When the cookies have cooled, use a smaller rectangle cookie cutter, a ruler or something similar to paste on a white rectangle with the glace icing. Don't paste the icing on all the way to the edges and try to keep the shape as neat and tidy as you can. Then leave the icing to dry.
Once it has dried, use the red and black icing pens to ice on the playing card design. You can keep it simple, just icing red and black symbols e.g. a red heart on one, a black ace on another or you can let your artistic streak flow and do the more intricate complete playing card design to really wow your friends. Let the icing dry and then serve!