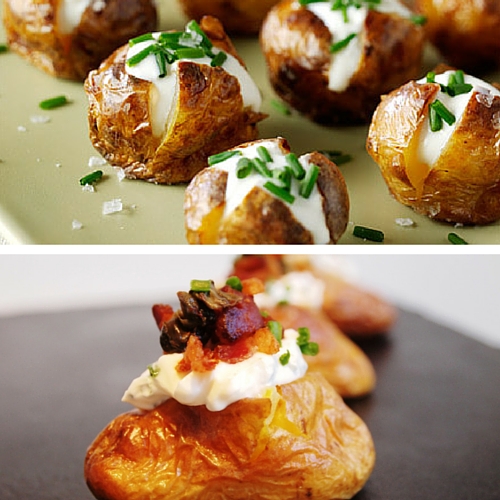 Who knew that something as substantial and tummy warming as a good old jacket potato could be turned into something as fancy as a cocktail party canapé? Better still, who knew how simple they would be to make, taking just ten quick minutes to prepare! If your guests aren't used to delights such as a caviar and you'd like to introduce them gently into a world of luxury dinner parties, these treats are a great way to test the water. Here's how to make some for yourself!
This recipe makes 4-5 mini jacket potato canapés, and you will need…
– 1 500 gram bag of new potatoes
– 75 ml of half fat sour cream
– 1 tablespoon of olive oil
– Sea Salt
– One small, snipped bunch of chives
Method:
Before you begin to make your jacket potato canapes, you'll need to preheat your oven to Gas mark 5/170C Fan/190 C. Whilst the oven is preheating, take your bag of potatoes and prick them gently with a fork. Coat them lightly, but all over, with olive oil and sprinkle gently with the sea salt. Once they have been prepared in this way, place them on a baking tray and leave them to cook in the oven for one hour.
When the hour is up, remove the potatoes from the oven and allow them to cool down for around ten minutes, fifteen at the most. Once they have cooled down, cut a small cross shape into the top of the potato, then pick them up and pinch the base of them- this will cause the cross shape on top of the potato to open up. Add a teaspoon of sour cream inside of this opening and garnish lightly with some chives. If you like, you could even add some black pepper and extra salt for some additional seasoning, but this is a personal preference and completely optional! Your canapés are now ready and should be served immediately. Enjoy! If you would prefer a slight variation of this recipe, another can be found here.