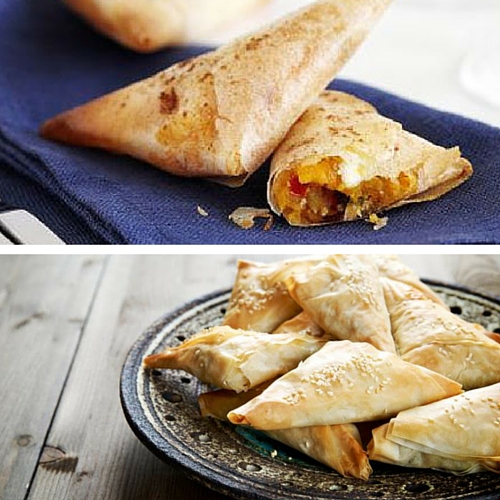 Sweet potato and ginger parcels may not sound like the most sophisticated of treats but they are so divine that your guests will not be able to leave them alone! With a super speedy preparation time and a simple method to help you create these bite-sized pieces of heaven, why wouldn't you want to try your hand at them? Go on… you know you want to.
This recipe makes 15 parcels, and to do so you will need…
– Half of a 190-gram packet of Feuilles de brick pastry
– 1 red chilli (this needs to be de-seeded and chopped prior to making)
– A piece of ginger approximately the size of your thumb (this needs to be grated prior to making)
– 4 spring onions (these need to be sliced very finely prior to making)
– 50 grams of butter, along with an extra knob (the 50 grams needs to be melted prior to making)
– 400 grams of sweet potato
– a pinch or two of cinnamon
Method:
First things first, you'll need to prepare the potatoes, as these are the main part of the canapé. Using either an oven or a microwave, cook the potatoes until they are soft and tender. Once they have reached this point, leave to the side.
Next, you need to melt a knob of butter into a pan and add the chilli, frying it for roughly half a minute, before adding in the whites of the spring onions and ginger and frying for about one minute.
You'll then need the potatoes again. Dig out the inner flesh of the potatoes and discard the skins- you will not need them. Mash the flesh of the potatoes into the pan with the rest of the ingredients, mashing it in quite thoroughly. You can then add the greens of the spring onions. Everything in the pan should now be well mixed together; this is your potato mix.
You can now move on to the pastry for the parcels. Before you begin to prepare the pastry, preheat the oven to 180C Fan/200C/gas mark 6. Once you've done this, unroll one sheet of pastry and cut out three six centimetre strips from the middle of the pastry- the rest of it can be thrown away. Paint the strips with melted butter to help them turn golden and crispy in the oven. Following this, place a heaped spoonful of potato mix at one end of the strip, and then fold the pastry up in to a triangular shape. You need to make it so that the potato mix filling is completely sealed inside of the pastry.
Brush the outside of your parcels with more melted butter so that they will be as golden on the outside as they are on the inside and then bake them in the oven for twenty minutes. When they're ready they will be slightly crispy and golden in colour. Dust some cinnamon over the parcels and serve to your guests.