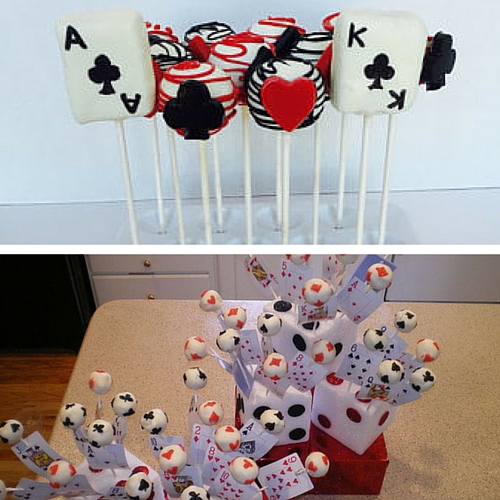 Cake pops have taken the baking world by storm, and people have been creating wild and wonderful varied designs. Why not have some at your casino party- some playing card cake pops are far from the normal circular shape and will provide you with a fabulous challenge. You can theme your playing card cake pops to practically any game you want. These are also a great idea to take to a cake sale for charity and fundraising events.
Ingredients:
– 1 plain vanilla sponge cake (bought from a shop or made prior to the cake pops)
– 1 can of frosting
– Glace icing
– Icing sugar
– Water
– Black and red icing pens
Tools:
– Long lolly sticks (as in a chupa chup lolly stick not an ice lolly stick)
– Food processor
– Cake pop stand
– Mixing bowl
– Spoon
Method:
Take the sponge cake and cut it up, placing the chunks into the food processor. Blend the cake up until it is nothing more than a large amount of very fine cake crumbs. Pour the crumbs into a mixing bowl. Very gradually begin to add frosting to the crumbs. Mix the frosting in to the crumbs using your fingers, and keep on adding until the mixture becomes like clay.
Now, here is where ordinarily you would begin to make the normal ball like cake pops. Not this time! Use a rolling pin, cookie cutter or something similar to cut out thick rectangular shapes, around 2-3cm in thickness. Place each rectangle on to a plate and then leave in the fridge to chill for a while.
Whilst the pops are chilling, create your glace icing, by adding a little water to some icing sugar, over and over until the icing is in the right sized quantity and the right consistency- this is a personal choice, so just keep making it until you're happy with the amount. However, it is recommended that as the cake pops stand up right, the icing should not be too runny!
Take the pops out of the fridge- now is the time to pop them (pardon the pun) onto their sticks! Take a lolly stick and dip the end of it in the glace icing- you don't need much, but this will act as the "glue" that keeps the pop on the stick! Gently push the stick into the pop and then stand in the cake pop stand! Repeat until you have done this for all of the pops and have row upon row of blank rectangle pops!
Decorating:
This can get messy but it will be worth it, and is very simple to do! You can do it one of two ways.
1) Coat the rectangles in your plain white glace icing and leave to dry. Then, using your red and black icing pens, ice different symbols onto the rectangles. One could have a red heart, another could have a black ace and so on.
2) Coat the rectangles in your plain white glace icing and leave to dry. Then, using your red and black icing pens, if you're a little more ambitious, ice on the full design of a playing card! It's intricate and requires a steady hand but looks incredibly effective!
Once decorated, leave all the icing to set before serving at your party!