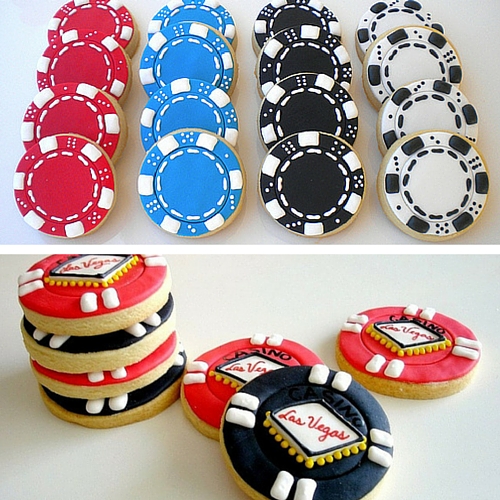 Looking to host your own casino themed party? You might be looking for some casino themed snacks to go with that then! Why not try something as simple as Poker Chip Cookies! Cash your chips in…to your mouth! Easy to make, delicious to eat and bound to be a hit with your guests; they'll think they've won the jackpot!
This recipe makes 35 cookies, so you will need the following…
Ingredients:
– 250g of butter
– 300g of plain flour
– 140g of caster sugar
– 1 egg
– 2 teaspoons of vanilla extract
– Red food colouring
– Green food colouring
– Blue food colouring
– Black food colouring
– Icing sugar
Tools:
– Rolling Pin
– Baking tray
– Greaseproof paper
– Circle cookie cutter
– Sieve
– Icing bag
– Wooden spoon
– Mixing bowl
– Chopping board/bread board/something similar!
Method:
Prior to making the cookies, you need to preheat the oven to Gas mark 4/180C.
Put the butter and the caster sugar into a bowl and mix together thoroughly until they have blended together into a smooth, butter cream-esque paste. Crack in the egg, add the vanilla extract and stir once again until everything is blended together. Following this, use a sieve to sift the flour gradually into the mixture, continuing to stir the mixture throughout in order to blend the flour in properly.
Next, cover your board with a light dusting of flour and then roll out the cookie dough until it's flat and about half a quarter of an inch thick. Then, use your circle cookie cutter to cut out the chips- sorry, cookies!
Cut out a sheet of greaseproof paper to line your baking tray and then place the cookies on top. Pop them in the oven for around twelve minutes, but no more than 15, and remove when they are firm and a golden brown colour. Leave to cool for around 15 minutes and then you can start to decorate.
You need to create your icing! Mix up a bowl of glace icing- this is made by adding icing sugar and water bit by bit into a bowl until you have the right amount and the right consistency. It's a matter of preference and what you want your cookies to look like, so just keep adding icing sugar and water, continually stirring the two together, until you have enough.
You then need to divide the icing into five bowls, three bowls with more icing than the other two. The three greater bowls need to be turned red, green and blue with the food dye. Keep adding dye until you have strong, rich colours. No pastels here! In the two smaller bowls, keep one lot of icing white and turn the other black.
Decorating:
Turn the cookies into chips by icing them different colours! Cover them in red, green or blue icing- they must be completely coated! Then leave the icing to dry.
Once it has dried, use the icing bag to ice on the chip details in either white or black icing. You can do very simple decor that suggests the cookies are poker chips or do very intense detail, from the squares that form the borders to the little inner dashes. Leave the decorative icing to dry. When it has, your cookies are ready to be devoured!