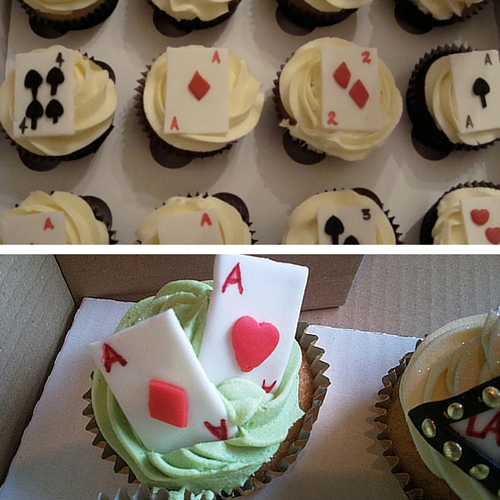 Playing card cupcakes are the perfect, unique snack to whip up for any casino themed party. Easy to make, creative to ice, they're the perfect edible good. Follow this simple step by step recipe to make your own before you can even say "snake eyes".
This recipe makes twelve cupcakes and you will need the following ingredients…
For the cakes:
– 125g of caster sugar
– 125g of self-raising flour
– 125g of unsalted butter
– 2 large eggs
– 2 tablespoons of milk
– 1 teaspoon of vanilla extract
– Green food colouring
– 12 cupcake cases
For the icing:
– 225g of icing sugar
– 75g of unsalted butter
– 2 tablespoons of milk
– 1 teaspoon of vanilla extract
– Red food colouring
– Black food colouring
Method:
Pour the sugar and butter in a bowl and mix them together until they're light and fluffy in consistency. Gradually crack the two eggs into the mixture, continually whisking them into the mixture until they're blended in properly. Once this has been done, gradually pour in the flour, folding it into the mixture until it is all mixed in to one cream like paste. Then add in the milk and the vanilla extract to add some creaminess and flavouring to the cake. Once everything has been mixed in properly, add in the green food dye. Depending how bright you'd like your cakes to be depends on how much you add- you may want just a few drops, you may want a lot of drops- it depends on the shade of green you're trying to achieve. Keep mixing it into the cake, and stop when the colour looks right. Divide the mixture into the twelve cupcake cases and pop them into the oven for 15-20 minutes on 190C heat.
Whilst the cakes are cooking you can make the butter icing. You will need three lots of butter icing. First of all, put the butter into a bowl and bit it vigorously until it is very soft. Pour in the vanilla and the milk, along with half of the icing sugar you have and mix all of it up together until it has blended properly. Add the rest of the icing sugar to the mixture and keep stirring until what you have in your bowl is very light and fluffy.
Divide the icing sugar in to three bowls equally, adding red food colouring and black food colouring into the other two bowls, so you have white, red and black. Take your cakes out of the oven- they should be spongy and a bright green colour. Now comes the artistic part! Using the white icing, ice a rectangle shape on top of the sponge. Then, using either the red or black ice the playing card features on top, such as a red heart or black aces. Repeat this across all the cupcakes and then serve.