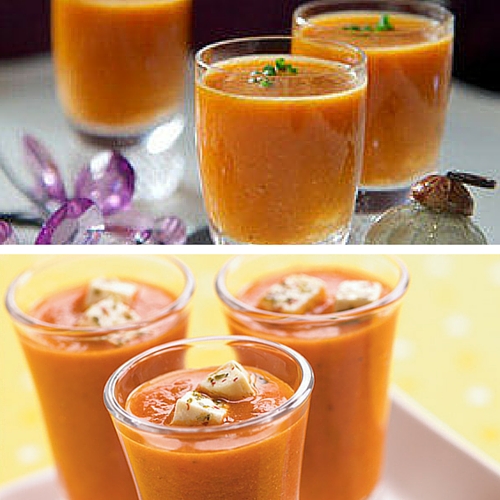 Roasted red pepper shots can be easily made in large quantities, making them the perfect canapé to serve at large dinner parties with ease and little to no stress! They can also be frozen, meaning you can make them in advance and save ones that may go to waste- they are super convenient canapés to say the least! Want to know how to make them? Of course you do. Read on!
This recipe makes 30 shots, so you will need…
– One 400 gram tin of peeled plum tomatoes
– One 250 gram jar of roasted red peppers
– 1 onion (must be chopped prior to making)
– 3 cloves of garlic (must be crushed prior to making)
– 200 ml of vegetable stock
– 1 tablespoon of olive oil
– 1 tablespoon of sugar
– 2 tablespoons of red pepper pesto
– a handful of basil leaves
Method:
Pour the olive oil into a pan and add the onion, frying it for roughly eight to ten minutes. When that time is up, add in the red pepper pesto, cloves of garlic and the sugar and cook them in the pan for around two minutes. Drain and chop the roasted red peppers and add these to the pan along with the plum tomatoes and vegetable stock, leaving the pan to simmer on a low to medium heat for approximately ten minutes. When the ten minutes is up, pour the mixture into a blender and blend together until it has made a smooth liquid. Leave this liquid to cool and then put into tubs or freezer bags (or something similar) and freeze until needed.
When it is time to serve your roasted red pepper shots, you'll need to defrost your shots in the fridge the night before the event. The mixture will then need to be reheated either in a microwave for around 3 minutes or in a pan on a low heat. The mixture should then be served in shot glasses and you can add a few basil leaves to each shot as a garnish.