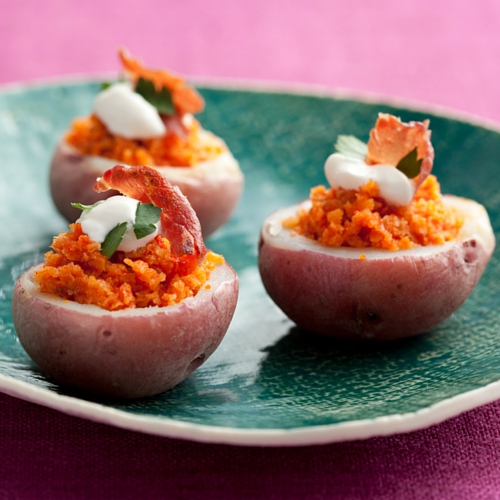 This recipe is for delicious bite sized potato pieces, topped with a tasty Italian style mix of herbs, cured tomato and fine ham. Beautiful for a classy party and simple enough to compliment any beverage or social atmosphere. Serve warm for added juice!
Ingredients needed to serve roughly 9 or 10 guests:
6 cloves garlic
2 tsp whole black peppercorns
kosher salt
27 baby new potatoes
2 plum tomato, cored and quartered
6 tbsp extra-virgin olive oil
3/4 cup chopped roasted red peppers
2 tbsp red wine vinegar
3 tbsp sour cream
2 tbsp chopped parsley
2 slices of white bread, crustless and made into small pieces
1/2 tsp smoked paprika
3 thin slices Serrano ham or alternative cured meat.
Method:
To start get the potatoes, half the garlic, the whole black peppercorns, and a little kosher salt into a pot. Add some cold water until the contents are covered and bring to the boil. When at the boil, bring the heat back down to a gentle simmer, and let it cook until the potatoes are soft when pierced with a fork or knife. This should be about 15 minutes.
While the potatoes are on, heat the oil in an average sized pan on a medium heat. Chop up the remaining garlic and add it to the hot oil along with the bread pieces. Keep stirring until the bread turns nice and golden. Into a food processor or blender add the bread you've just fried, red peppers, smoked paprika, tomatoes, vinegar, and a little more kosher salt. Blend them up until they form a nice smooth paste.
Heat a nonstick pan over medium heat until piping hot. Cook the Serrano until it's good and crispy, this should require turning it often for 2 – 3 minutes or so. When it's done, put in on some paper towels to soak up the excess oils and then once it's cooled down a bit break it up into pieces.
To build each potato to serve, half each potato and scoop a little of the inside out. You should be aiming for roughly ¼ of the half left inside, a teaspoon would be best for this, or better yet a tiny sugar spoon if you have one. Then add a bit of the romesco sauce, sour cream, the Serrano pieces and a sprinkle of parsley. It's important to do the scooping while the potato is warm, if it's cold the flesh become more solid and harder to shovel.