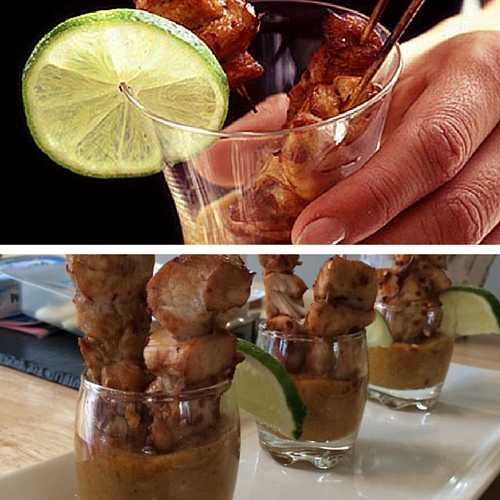 Chicken Satay is probably not the first food that comes to mind when planning your canapés for a fancy dinner party. However, Satay Shots are no ordinary Chicken Satay skewers and will make the perfect nibbles for your hungry guests throughout the night. With a bit of a Spanish twist, you can bet your bottom dollar that your guests will crave these unique bites for the rest of their night! Want to learn how to make them yourself? Look no further than here.
This recipe makes 36 delicious Satay Shots, so you will need the following…
– 1 415 gram jar of ready made satay sauce
– 1 tablespoon of muscovado sugar
– 1 tablespoon of vegetable oil
– 1 tablespoon of chillies
– 3 tablespoons of soy sauce
– 2 crushed garlic cloves
– 4 chicken breasts that are both skinless and boneless
– 12 full lime slices
– 1 lime slice that has been cut in half
– 36 skewers
Method:
You need to start preparing your satay shots about one day in advance of the event you will be serving them at. In this time you will need to cut the four chicken breasts into thirty-six thin strips and place them into a bowl. Next, add the soy sauce, garlic, chillies, sugar and oil into the bowl and mix these all in with the chicken very thoroughly until every strip is fully coated. Once this has been done, push a skewer through each chicken strip. Place these onto a plate, dish or tray and leave in the fridge until you need to cook them the following day.
When it comes to cooking the satays, you will need to preheat the oven to gas mark 5/190C/fan 170C. When the oven is hot, place the tray with the chicken satay on in the hottest part of the oven for ten minutes. Whilst the chicken is cooking, you need to begin to heat up the satay sauce in a pan. Once you've done this, spoon it into 12 small tumblers, shot glasses or similar.
The chicken should be cooked now. Use the lime slice that has been cut in half to squeeze juice over the chicken and add a little 'zing' to them. Place three chicken satays into one shot glass and add a lime wedge onto the side- these are your satay shots and they are now ready to be served to your guests, either hot or cold.