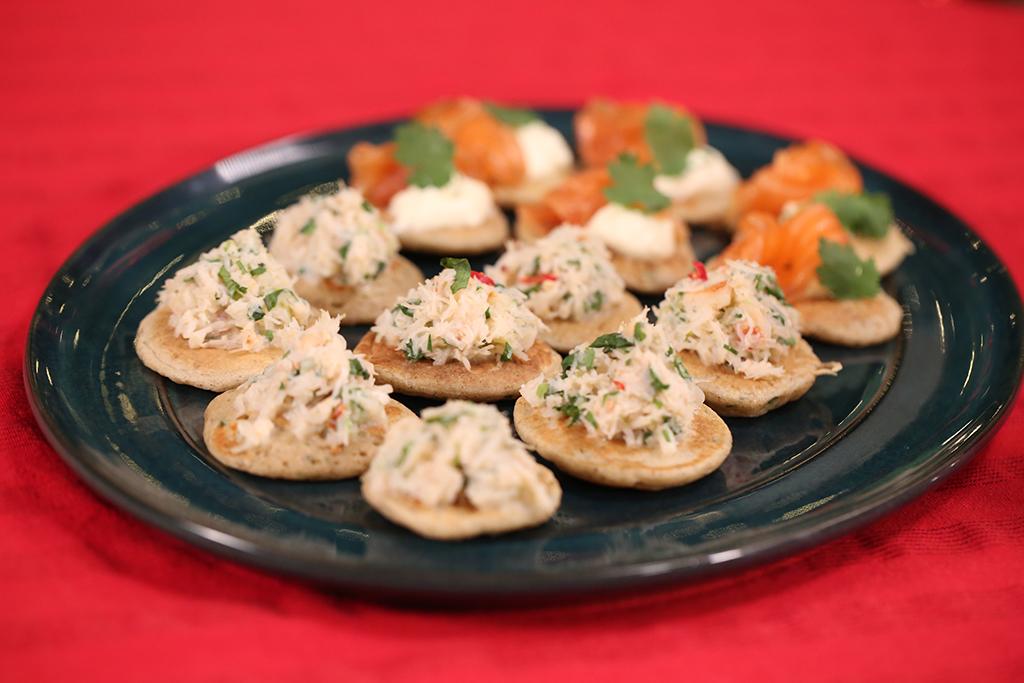 Smoked salmon evokes elegance and class like little else, and is always sure to impress and please at a party or event. These are best enjoyed with something sparkling (either a drink or jewelry, it's up to you). The gentle spice of the blinis and the cool salmon topping are the perfect marriage of excitement and sophistication that you want at a casino-themed party or poker game! And if you've never made your own home-made smoked salmon you'll be pleased to know it's extremely easy!
For the blinis
350 grams plain flour (replace with buckwheat flour for a gluten-free alternative)
100g buckwheat flour
20 grams dried yeast
2 teaspoons garam masala
1 teaspoon ground cumin
20 grams sugar
600 millilitres milk
2 egg yolks
4 egg whites
For the salmon
2 sides/around 600g of fresh salmon
1 tablespoon fresh lemon juice
1 small fresh green chilli
2 tablespoons plain yoghurt
1 teaspoon red chilli powder
1 tablespoon black peppercorns
1 bunch fresh coriander
5 tablespoons ground cumin
200 grams rock salt
To garnish:
Lemon slices
Fresh coriander
Method:
Mix all of the salmon marinade ingredients together in a large dish, and smother the salmon pieces with the marinade. If your fish still has the skin on, then leave it on, but do not marinade the skin. Cover with foil and pierce the foil all over, being careful not to pierce the fish. Leave on a large dish, to catch the juices that will escape from it, and put some heavy tins or packets of food on top to press the salmon down. Leave in the fridge for 1-2 days.
Then, you'll want to make your blinis, and you might want to make more than you need for your party, as you can always keep them in the freezer for another time. Sift both flours (or all the buckwheat flour if making the gluten-free version) together in a large mixing bowl, and throw in the garam masala and yeast and stir in briefly.
Heat the milk gently in a pan and whisk whilst slowly adding your egg yolk and sugar, once the milk is warm. Once the sugar is completely dissolved, pour the wet mixture into the flour mixture, and stir well until you get a paste. Add the cumin, stir it in gently, and put the mixture to one side.
In a separate bowl, whisk your egg whites until they form firm peaks, and fold them into the blini mixture. Leave the dough to rest for 20 minutes at room temperature, covered by a clean tea towel.
You should now have a semi-liquid batter that you can drop off a spoon quite easily.
Using a non-stick frying pan, pan cook tablespoon-sized portions of the batter. Make sure none of the blinis are touching, and drop them gently into the pan. They'll need only 40 seconds on one side and 30 seconds on the other. Once all your blinis are cooked, leave them to cool on kitchen paper, and try not to pile them one on top of the other.
To serve, scrape the marinade off the salmon, and flake the fish, laying a heaped teaspoon onto each blini. Top with chopped fresh coriander and serve with lemon slices to taste, so that your guests can squeeze at their leisure.