The weather may be taking a turn for the worse, but that doesn't mean you have to lose your grasp on the summer quite yet. Whip together our speedy fruit plate in no time at all and imagine you're basking in the sunshine at the foothills of a Mediterranean mountain.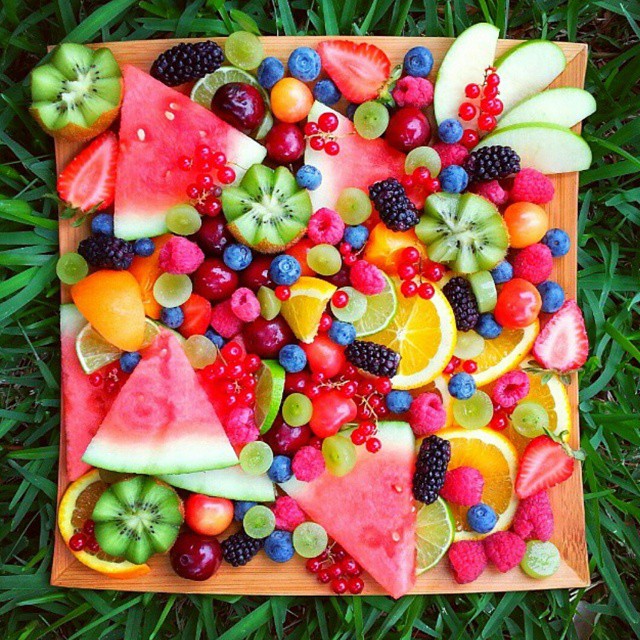 Method:
This recipe has to be one of the simplest ever. There is absolutely no cooking involved, and very little in the way of prep. Quarter the figs and assemble all of the fruits, nuts and the honeycomb on the biggest serving plate you can find. Leave some space in the middle for a ramekin or small bowl and keep the dish cold enough until ready to serve to preserve the fruit. Next move on to the pesto mozzarella balls.
For the mozzarella balls, you first need to roughly chop up some basil and arugula and bung them all in a medium-sized bowl. Roughly chop up the pine nuts and put them into the bowl alongside the basil. Throw in the parmesan cheese and season to taste. Drizzle in the half a cup of olive oil and mix all of the ingredients together with a fork or spoon, before mashing them together. If the consistency is a little too thick for your taste, feel free to add more olive oil to the mix. Finally, drop the mozzarella in the bowl and toss over a few spoons of your newly made pesto.
Transfer the pesto mozzarella balls to the ramekin/small bowl and serve alongside the fruit plate with some Parma ham. Feel free to drizzle some honey onto your dish. You will have leftover pesto too, for a cheeky dip!
Ingredients:
Fruit platter:
Two cups of fresh berries – we used blueberries, blackberries, raspberries and strawberries.
Two sliced nectarines and/or peaches.
One diced mango
One cup of fresh cherries
Eight figs (the fresher the better).
Half a sliced or diced cantaloupe.
Half a sliced or diced small watermelon.
Honeycomb (or honey).
Honey-roasted almonds
Fresh basil leaves
Pesto Rolled Mozzarella balls:
Two cups of fresh basil
A third of a cup of lightly toasted pine nuts
A third of a cup of freshly grated parmesan cheese
Half a cup of olive oil
Salt and pepper to suit.
Eight ounces of buffalo mozzarella balls or bocconcini
Small handful of arugula (salad rocket)