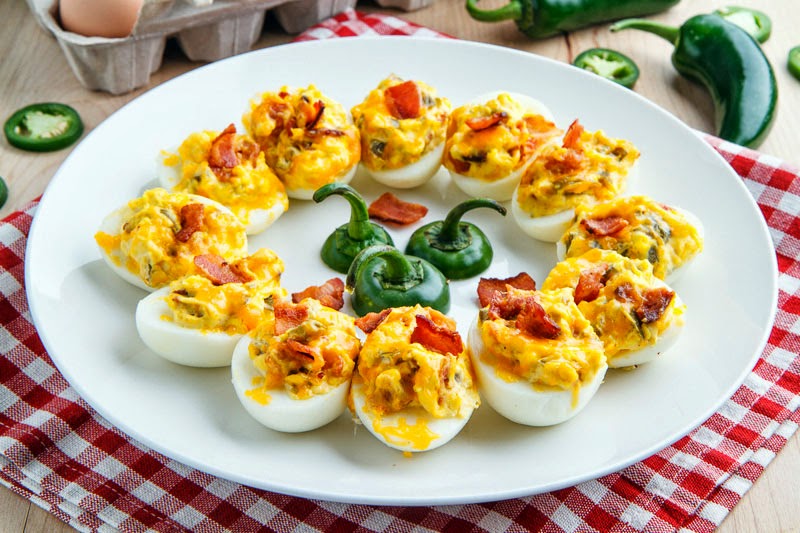 Devilled eggs came in with the 70s and blew out again with the 90s, but they are making a – well-deserved – comeback in the form of perfectly bite-sized street food. With a fiery kick of chilli and the smooth texture of the egg itself, this is a dish for all occasions. And as for street corn, you've probably never heard of it. But you'll love it – corn covered in a special spicy mayonnaise dressing before being rolled in cheese… what's not to love? Let's do this!
Ingredients (makes 24 devilled eggs)
12 medium eggs
¼ cup mayonnaise
2 tbsp mustard
2 tsp Worcestershire Sauce
½ tsp Tabasco Sauce
½ cup feta cheese
¼ cup red onion (chopped finely)
½ cup grilled corn
2 tbsp cilantro (chopped)
Salt and pepper for seasoning
Chilli powder
Method
Place the eggs into a large pot and fill the pot with water. The level should be around 2 inches above the top of the eggs. Bring to the boil.
Once the water is boiling, remove from the heat and cover. Leave covered for 10 minutes.
Fill the sink with cold water and pop the pot into it to stop the cooking process.
Once completely cooled, peel the shell from each egg. Slice the eggs in half lengthways and remove the yolks. Keep the white part of the egg to one side.
Using a fork, crush the yolks until mashed smooth. Add the mayonnaise, mustard, Tabasco, and Worcestershire Sauce and stir. Once combined add ¼ cup of feta. Stir again.
Place the yolk mixture into a food bag and seal it. Cut one corner of the bag off and pipe the mixture back into the white part of the eggs.
Serve with a garnish of chilli powder, onion, corn, and cilantro.
These are the kind of devilled eggs that your party guests won't turn their noses up at! They might just need some water afterwards, however.