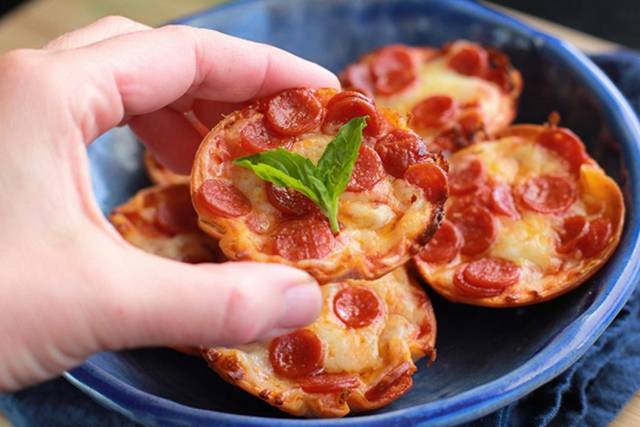 Pizzas are amazing. Fact. And making little mini ones that can be used as a snack-time treat or a lunch box extra make them even better. And you thought that was impossible! This recipe is ideal for those times when nothing but a pizza will do – but you can't justify ordering a whole one… Apparently, those times do exist. So here you go – enjoy!
Ingredients (makes 4 servings)
4 flour tortillas (the 8-inch size is great)
1 cup of pizza sauce
¾ cup of mozzarella (grated)
¼ cup fresh Parmesan (grated)
36 mini pepperonis
Method
Preheat your oven to 425oF. While that's heating up, use a little oil to grease a 12 cup muffin tin. If you would rather not use oil, use a non-stick spray.
Lay one tortilla out on a flat surface and cut out around 3-4 discs. Use a cookie cutter or an empty tin can. Do this to each of the tortillas so that you end up with 12 discs.
Place each tortilla disc into the muffin tin, then spoon one tablespoon of pizza sauce into the tortilla cup that you have made.
Sprinkle both the parmesan and mozzarella cheeses over the top and finally add a few mini pepperonis (3 seem to fit just right).
Bake for 10-12 minutes, or until the cheese is melted and golden. Serve straight away.
Don't forget you can also use these pizzas are bases for a whole range of different toppings. Why not host a pizza-making competition at your next party and challenge your guests to make the most delicious pizza? I'm thinking extra mozzarella, spinach, pesto, sundried tomatoes… I can practically taste it right now! Alternatively, cover your mini deep dish pizzas in pulled pork and bbq sauce. Damnit, I knew I should have been a pizza chef!