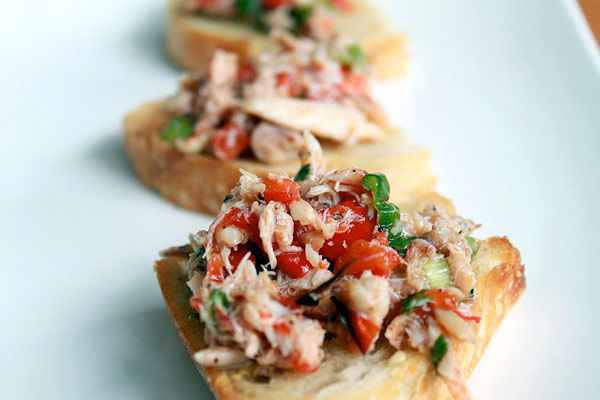 Christmas should be a time of tradition – old and new. And there is nothing like creating a brand new tradition that will be kept throughout the generations. Something like a special meal on Christmas Eve (especially when you won't be seeing the same people the next day for Christmas itself) is always a joy. It brings a sense of occasion to a day that can otherwise just feel like a lot of waiting around!
Even if you are not the most experienced of cooks, even if you never give a dinner party, this one night of the year is still ideal for you to get involved with. Get the kids involved too and they will soon forget about what is coming up, and instead you can all live in the moment. Perfect.
And this particular dish – the crab crostini – is a great thing to serve on this happiest of occasions. It's festive (just look at the colours!) and it's easy to prepare – plus it tastes amazing!
Ingredients (makes around 16 crostini)
3 tbsp mayonnaise
1 tbsp Dijon mustard
1 tbsp lemon juice (freshly squeezed)
½ tbsp Worcestershire Sauce
6 drops of hot pepper sauce
8 oz crabmeat
½ red bell pepper (diced as fine as you can)
1 tbsp fresh chives (diced finely)
A splash of olive oil
Salt and pepper to taste
1 baguette
Method
Mix the mayonnaise, mustard, lemon juice, Worcestershire Sauce, and hot pepper sauce together in a bowl. Season and then add the crabmeat, red pepper and chives. Fold together.
Raise the rack of your broiler to the highest position and preheat.
Cut the baguette into slices and brush each one with a little olive oil. Place one heaped tablespoon of the crab and mayonnaise mixture on the top and place carefully into the broiler.
Broil for around 5 minutes or until the top is a lovely golden brown. Be careful, as it can quickly go too far and burn!
Serve immediately.