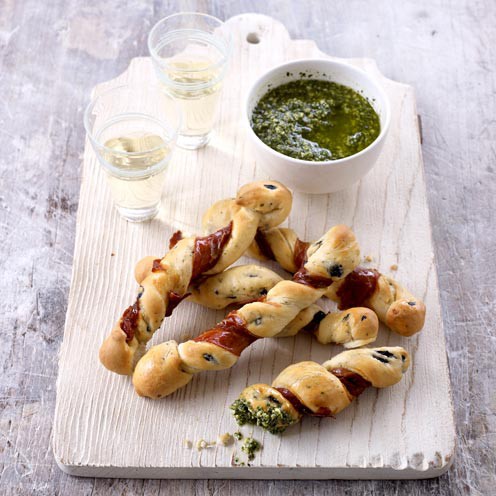 For something a little different, these parma ham swizzle sticks will go down well at a party or as part of a picnic, and are super simple to make.
Preparation time: 20 minutes
Cooking time: 15 minutes
This recipe will make 12 swizzle sticks.
250 g (9oz) strong white flour (plus a little extra to dust)
6 slices Parma ham, halved lengthways
½ x 7 g sachet fast-action dried yeast
200 ml (7fl oz) milk
50 g (2oz) pitted black olives, halved
2tbsp olive oil (plus a little extra for oiling)
Leaves from 2 rosemary sprigs, finely chopped
Fresh pesto to serve
Method
Begin by mixing your flour, yeast and ¼ tsp of salt in a large bowl. Meanwhile, gently heat the oil and milk until lukewarm.
Gradually stir the milk and oil into the flour mixture bit by bit, until you have enough to make a soft dough. Place the dough on a floured surface and proceed to knead for around 4 minutes.
Pop the kneaded dough into a lightly oiled bowl and leave to rise in a warm, but not hot place for around 30 minutes, covered with a clean tea towel.
Preheat your oven to 200°C (180°C fan, gas mark 6) and use baking parchment to line two baking trays. Lightly knead the rosemary and olives into the dough create 12 equal sized balls. Roll these balls into strips of 18cm and twist together with a strip of ham, along the length.
Transfer to your baking sheets until you have used all of the dough and have 12 equally sized swizzle sticks.
Bake for around 12-15 minutes or until golden. Serve whilst warm with pesto for dipping.