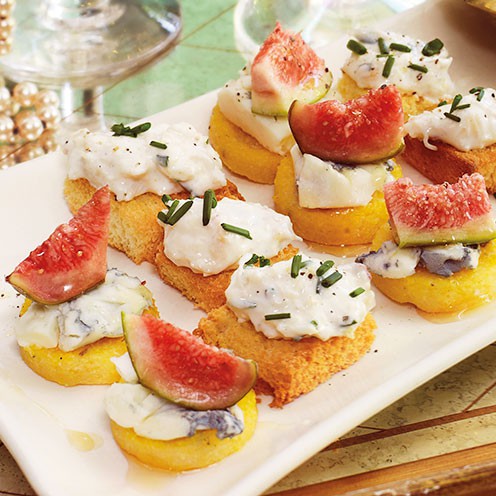 Polenta is the perfect food to serve as a canape, and it is a very versatile canape at that! It can be adapted to your own personal tastes, with things such as rosemary and honey being added according to your own likes and dislikes. Similarly, if you're not a fan of figs, replace them in the recipe with slices of peeled pear instead.
This recipe will make around 24 polenta and fig bites and should take you around 25 minutes to make, including cooking time.
For this recipe you will need:
3 figs that are perfectly ripe. These need to be cut into 8 segments each, leaving you with 24 segments.
550 ml of vegetable stock
75 g of goat's cheese or similar
125 g of instant polenta (dry)
1/2 a teaspoon of dried rosemary
Honey 
Oil (for greasing)
Method
1) Lightly grease a roasting tin with the oil. The tin should ideally measure around 17cm x 25.5cm but if the dimensions are a little out, don't worry too much, just make sure that the wet polenta is spread out across the tin appropriately and to the right dimensions.
2) Bring the vegetable stock to boil in a medium sized pan and then add the polenta to it. For one minute, cook the polenta in the stock, stirring continuously throughout this time, making sure it is all mixed in well together.
3) After one minute is up, take the pan off the heat and stir in the dried rosemary, adding as little or as much as you prefer according to your personal tastes.
4) Empty the polenta and stock mixture into a tin, making sure the surface is totally level and then leave this until it is completely cooled down.
5) When completely cooled, tip the polenta onto a board and use a circle shaped cutter to cut out 24 4cm circles. You can use cookie cutters for this or even the lid of a jam jar.
6) Cover each circle with some goats cheese and add the fig (or pear) slice on top. Drizzle a small amount of honey over the top and enjoy.