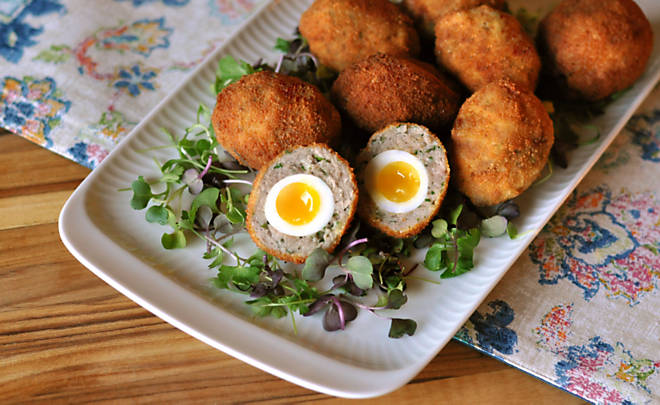 Revamp the humble scotch egg with quality ingredients to give your picnic a real boost. Just make sure you make enough, you won't be able to resist another one.
Ingredients:
300g (11oz) Cumberland pork sausages – around 5
Flour, to dust
1 large egg, lightly beaten
75g (3oz) of dried breadcrumbs
12 hard-boiled quails' eggs
2-3 tbsp vegetable oil, to fry
Directions:
Before you start, preheat the oven to 200°c (180°c for fan assisted ovens), gas mark 6. Squeeze the sausage meat out of their skins and discard the skins.
Put flour, the egg and breadcrumbs into small bowls.
Divide the meat equally into 12 portions and lightly flour your hands. Form each portion into flat patties about 6.5cm (2½ in) across in the palm of your hand and place a boiled quail's egg in the center, shaping the meat around it. Repeat until all 12 are done.
Dip the covered eggs into the flour and tap off the excess, then dip in the beaten egg and lastly coat in the breadcrumbs.
Heat the oil in a large frying pan over a medium-high heat. Add the coated eggs to fry, ensuring to turn regularly, until they are golden brown on each side (you may need to fry in batches if you have a smaller frying pan). Transfer the scotch eggs to a baking tray.
Cook the eggs in the oven for 10 minutes and serve warm or at room temperature with sea salt and mustard. They look wonderful sliced in half and served alongside a crisp rocket salad.
Tip: Pre-cooked and peeled quail's eggs are available from Waitrose and Ocado. Otherwise, hard-boil your own eggs in simmering water for 3-4 minutes. Allow to cool and peel.
Prep time: 25 minutes
Cooking time: 20 minutes
Makes 2. Calories are 124 per serving.
Total fat: 9g
Saturated fat: 2g
Sugars: 1g
Total carbs: 6g